Forging Press
Hamamatsu Tekko has built a fully equipped system, including a 630 t press in Japan. At our overseas factories, we have installed even larger 800 t ma chine s , expanding our r ange of production. We have also worked to reduce costs by installing automatic transfer machinery. We have furthermore expanded everything from design to coarse material completion to in-house production, establishing a system that can meet customers' needs with advanced technological capabilities.

Parts Former (Horizontal Multi-Stage Forging Machine)
Equipment owned by PT.HAMATETSU INDONESIA
A parts former uses its built-in cutting mechanism to cut wire (coil) materials into it to a certain length, then convey the wire by transferring it through multiple heading processes, and adds pressure to mold the product into the desired shape. Hamamatsu Tekko has advanced the cold heading process to mass production, achieving net shaping processing (eliminating the need for later cutting).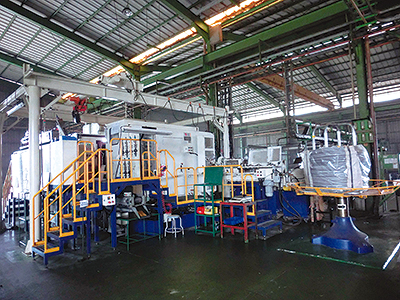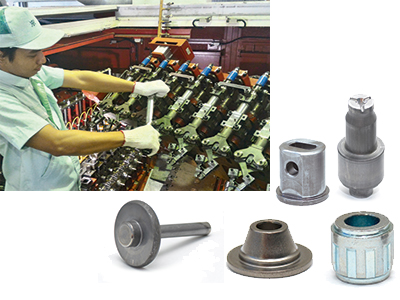 Low-Temp Gas Soft-Nitriding

Hamamatsu Tekko's gas soft-nitriding is typically
performed at 570 ° for 140 minutes. However,
deformation due to heat treatment would
sometimes cause high precision parts to deviate
from the standard. We succeeded in preventing
this heat treatment deformation by performing
treatment for a period of time roughly twice as
long as before at low temperature.
Of course, we not only guarantee precise
dimensions, but also have a commitment to the
appearance of our products after treatment.
Thorough preliminary cleaning makes for the
highest quality appearance after heat treatment.
If you have difficulties with deformation or
appearance due to gas soft-nitriding treatment,
find the solutions you need at Hamamatsu Tekko.




Hobbing Machine Equipment owned by HAMATETSU VIETNAM Co., Ltd
The latest CNC Dry Cut Hobbing machines have been installed for machining (creating) gears.
The CNC Dry Cut rapidly and precisely cuts gears while staying environmentally friendly with machining that does not use cutting oil.
It is capable of cutting gears with a maximum diameter of 150 mm and a maximum module of 4.